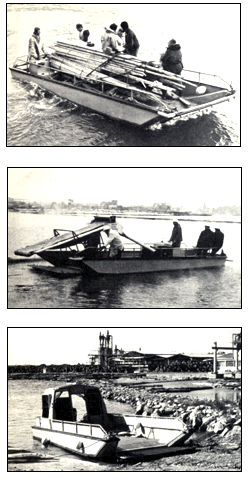 What is Rotork Sea Truck? It is a flat-hulled, high-speed watercraft, similar to a small landing craft. Made from fibreglass, they may be used to land vehicles without jetties or harbour facilities.
If you've got a job to do - Sea Truck can do it. And Sea Truck will do it faster and cheaper then the boat you're using now. When you get a Sea Truck you get a boat with everything: maximum work capacity, adaptability, speed and safety. All at a price that makes it the boat you can't afford to pass up.
Forget any ideas you used to have about boats; there's never been a boat like this before. Sea Truck will change your way of thinking. And working. This boat wasn't possible until now; it's a product of modern engineering and technology. We've scrapped the conventional 'V' hull to give you a flat hull for stability, made of extra tough glass-fibre and filled with polyurethane foam: there is no boat that's safer, easier to maintain, or more versatile. And Sea Truck's at home on the high seas, or in one foot of water. The flat deck gives you maximum work space, and because of Sea Truck's built-in buoyancy, you can place your full load anywhere on it - it can't tip over. There's a front-loading bow ramp for easy access, and you can fit the boat with engines designed for high speed and cabin modules to suit any of your needs.