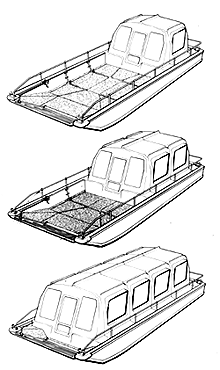 Cabins.
Moulded glassfibre sections with woven roving laminations. The sections nest in the hull during shipment ready for assembly on site; as they are modular it is possible to both change their position and order more modules as requred. Some cabin variations:
Wheelhouse
Shelter for operations plus crew with room for tractor on deck.
2 Section
Lager cabin with accommodate a chart table and still allow room to move. Plenty of working desk space, good for diving or survey teams. End enough deck room for a small car.
3 Section
Room for a 20 man crew and galley, with compressor on desk.
4 Section
For carrying valuable cargo or use as a bus - still retains bow loading.