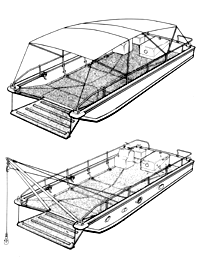 Locker seats
Combination 3 person seats with 4 cubic feet of locker space.
Awning
Folding pramhood design in PVC coated nylon tarpaulin fabric fitted over aluminium frames, specifically made for hot climates. Complete with nylon lashings it is easily mountable/remountable and stows neatly across the transom.
Crane
A pair of sheer legs that can be mounted by one man on the threshold of the boat; the angle of the legs and the crane swiwel hook are operated by winches. The lightweight 'A' frame jib, capable of lifting 500lbs, is suitable for lifting and laying light moorings, hoisting aboard small craft and assisting in diving work. Stows flat beside the angle knees.
Navigation lights
Port/starboard lights and stern riding light. Complete with slide lock fuse and switch with connections to battery.