NAME YOUR POWER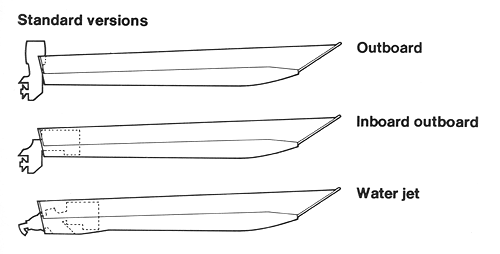 PETROL
2*140hp Mercury outboard motors
Two engines to give you maximum power with minimum weight for height speed performance and heavy load carrying - allows quick removal of power units and a spare engine with plenty of power on its own.
---
1*170hp Volvo Penta inboard sterndrive
A real workhorse: you get inboard relibility with outboard manoeuverability, plus power and economy, and easy on-site servicing.
---
1*215hp Mercury/Jacuzzi jet
Here's medium speed-manoeuverability essential for shallow or debris-laden waters and careless handling won't damage it.
more information...
DEISEL
1*106hp Volvo Penta sterndrive
If you want power, relibility, safety, and a waterproof engine - this is it.
---
1*50hp Perkins sterndrive
For maximum economy.
---
1*175hp Ford/Jacuzzi jet
The best of everything - safe, fast, adaptable, will allow constant operation in shallow or fouled water.
more information...
For unusual applications requring more or less power, various other engine combinations are available. For more information, consult your Rotork Sea Truck dealer.